Surgical Design is developing a single handpiece
for both phaco and I/A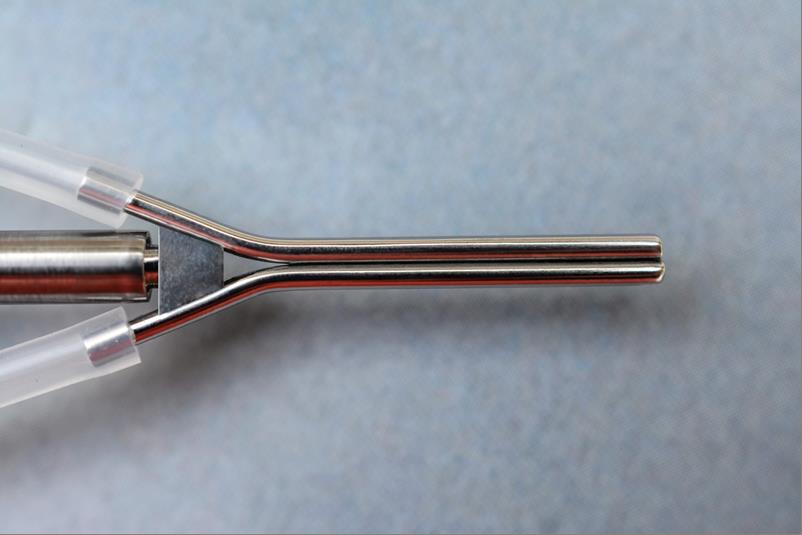 CURRENT TECHNOLOGY
All phacoemulsification handpieces have a central tube that functions as an aspiration line. In addition, the irrigation line is an integral part of the handpiece. See Figure 1 below: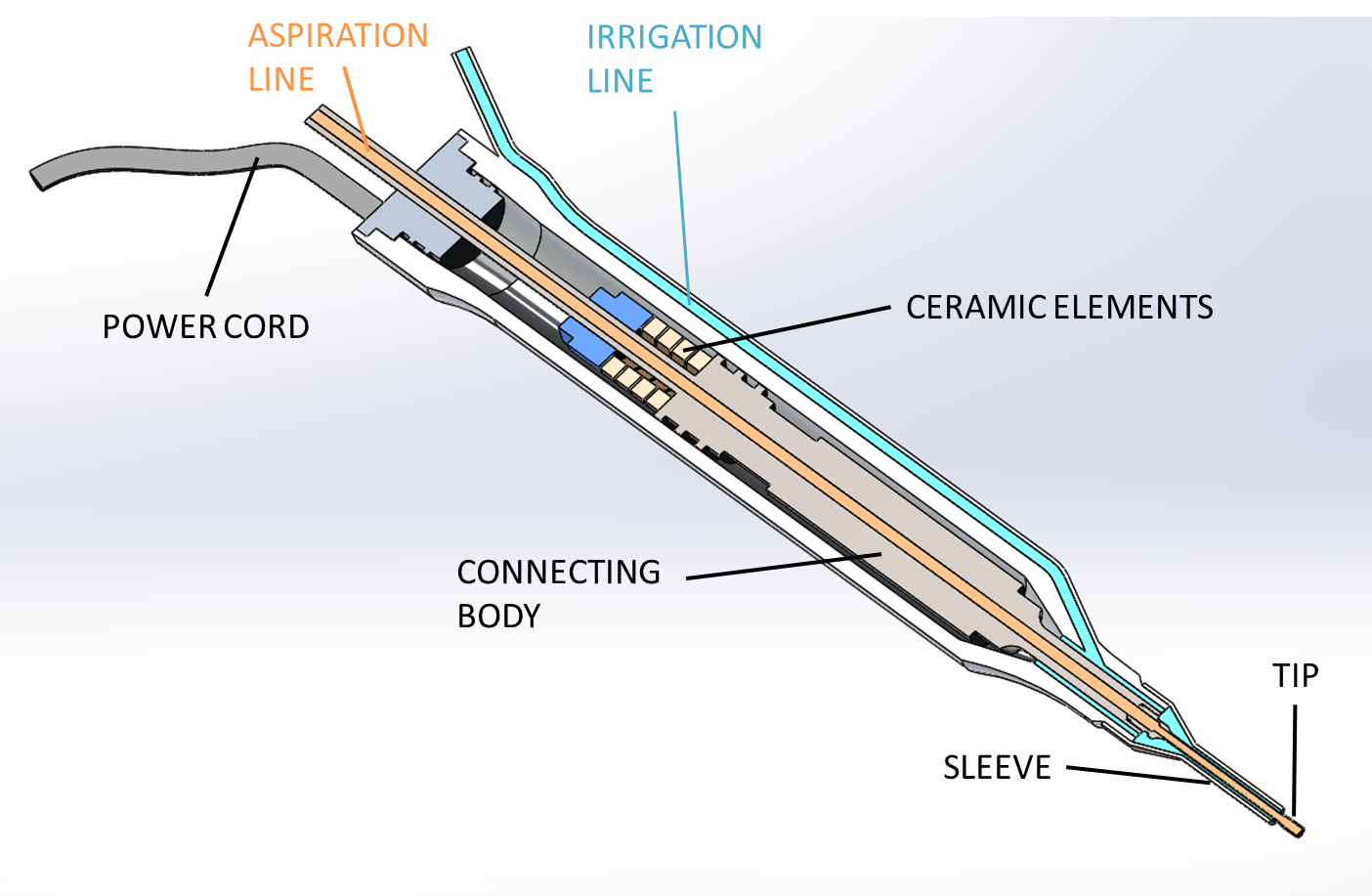 Figure 1
The main disadvantage of a central tube aspiration line within the handpiece is that the entire handpiece is contaminated after each surgical procedure, requiring sterilization between cases. Handpiece sterilization is costly, time-consuming and may require complicated cleaning procedures for preventing prion disease.
In addition, a centrally located aspiration tube within the handpiece increases the diameter of the handpiece and has significant design and manufacturing disadvantages.
The elimination of a central tube results in a substantially smaller, lighter handpiece with improved efficiency and ergonomics. The illustration below, (Figure 2) depicts a phaco handpiece without a central tube.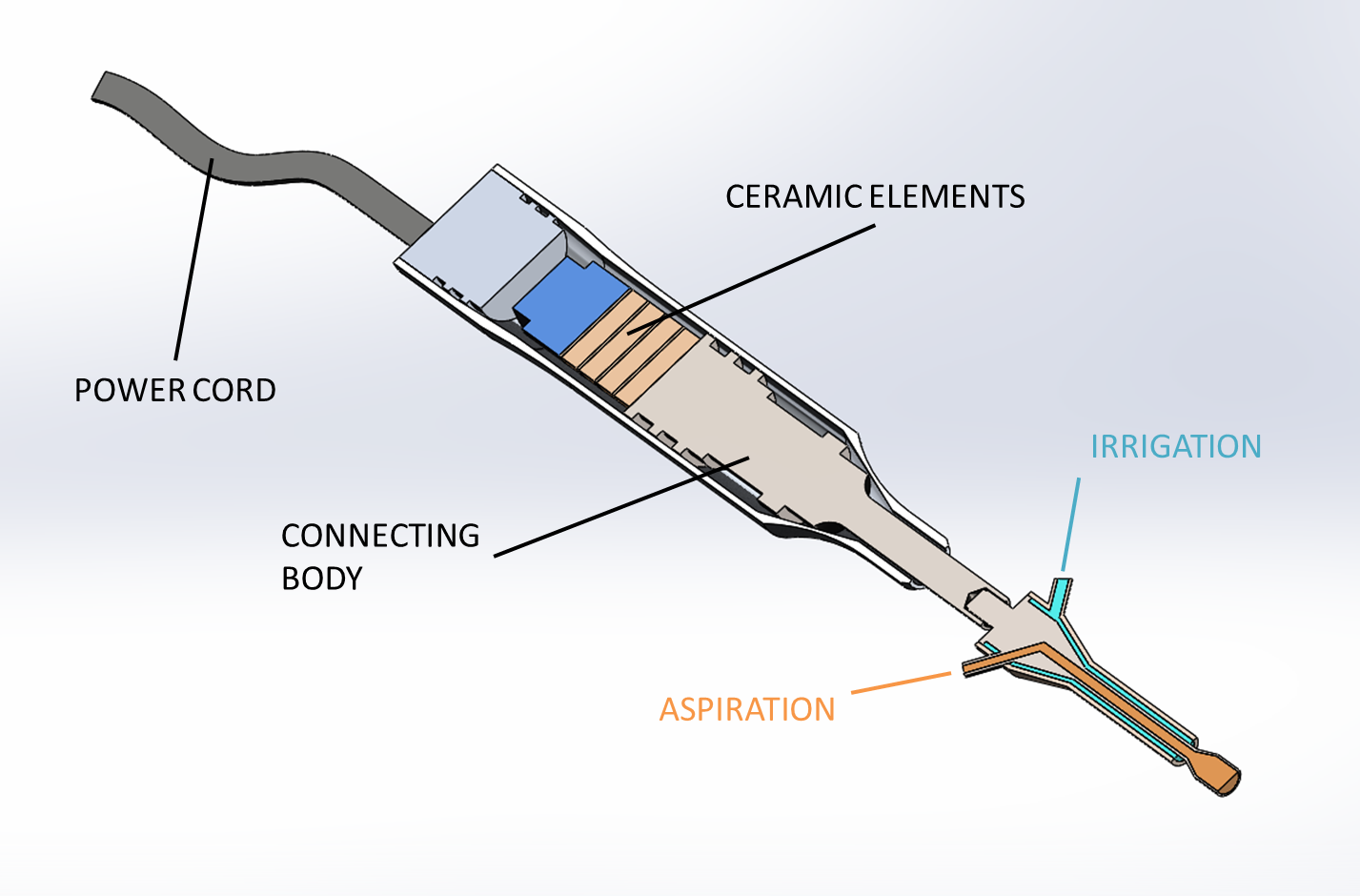 Figure 2
The outer housing of the smaller, lighter handpiece can be configured in various shapes to fit into the surgeon's hand comfortably. Figure 3 illustrates a side-by-side size comparison between the current technology and the new design.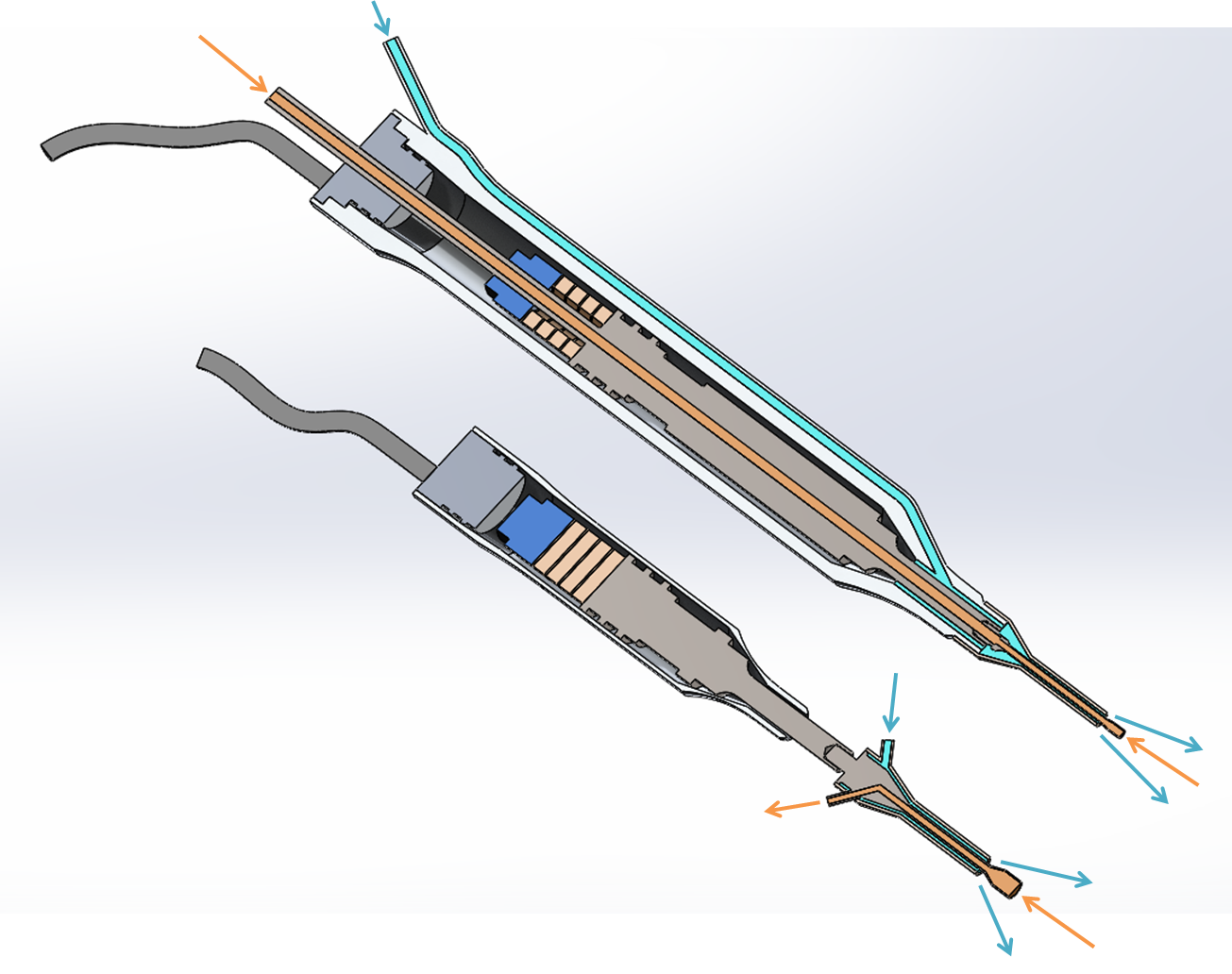 Figure 3
INTEGRAL SLEEVE AND TIP
A new tip is described in a Surgical Design patent application that combines the irrigation sleeve and the vibrating phaco tip into one integrated disposable unit. See Figure 4 below: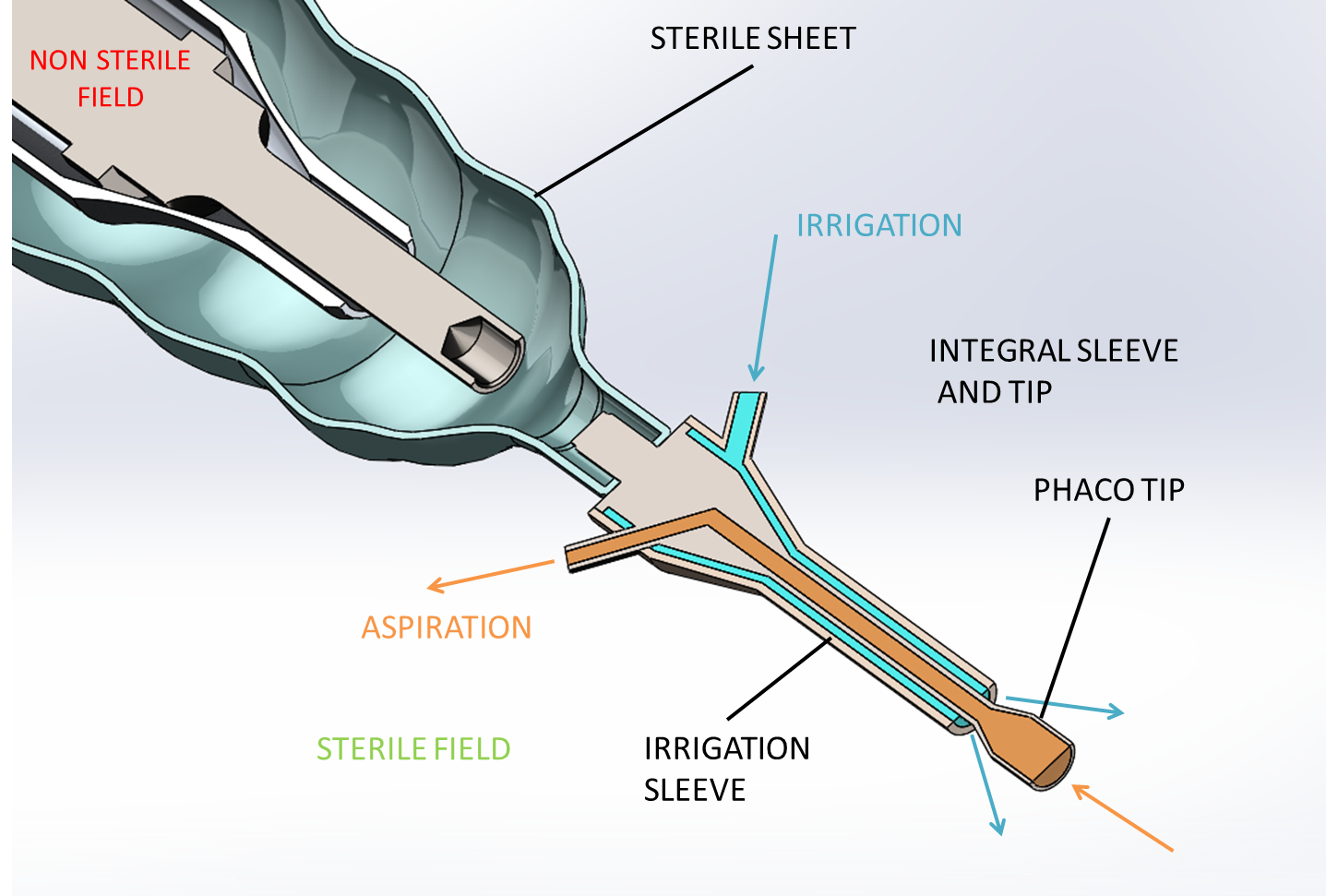 Figure 4
This innovative design eliminates the central aspiration tube through the handpiece and connects all the fluid lines to the disposable work tip. The integrated work tip includes an attached sterile sheet/ bag that can be placed over the non-sterile handpiece and power cord. (See Figure 5 below.). This design gives the surgeon the option to eliminate the need to sterilize the ultrasonic handpiece. The result is a smaller, lighter, more ergonomic handpiece that does not require sterilization and performs more efficiently. In addition, this design is ideal for surgeons who prefer a silicone irrigation sleeve over the titanium phaco needle.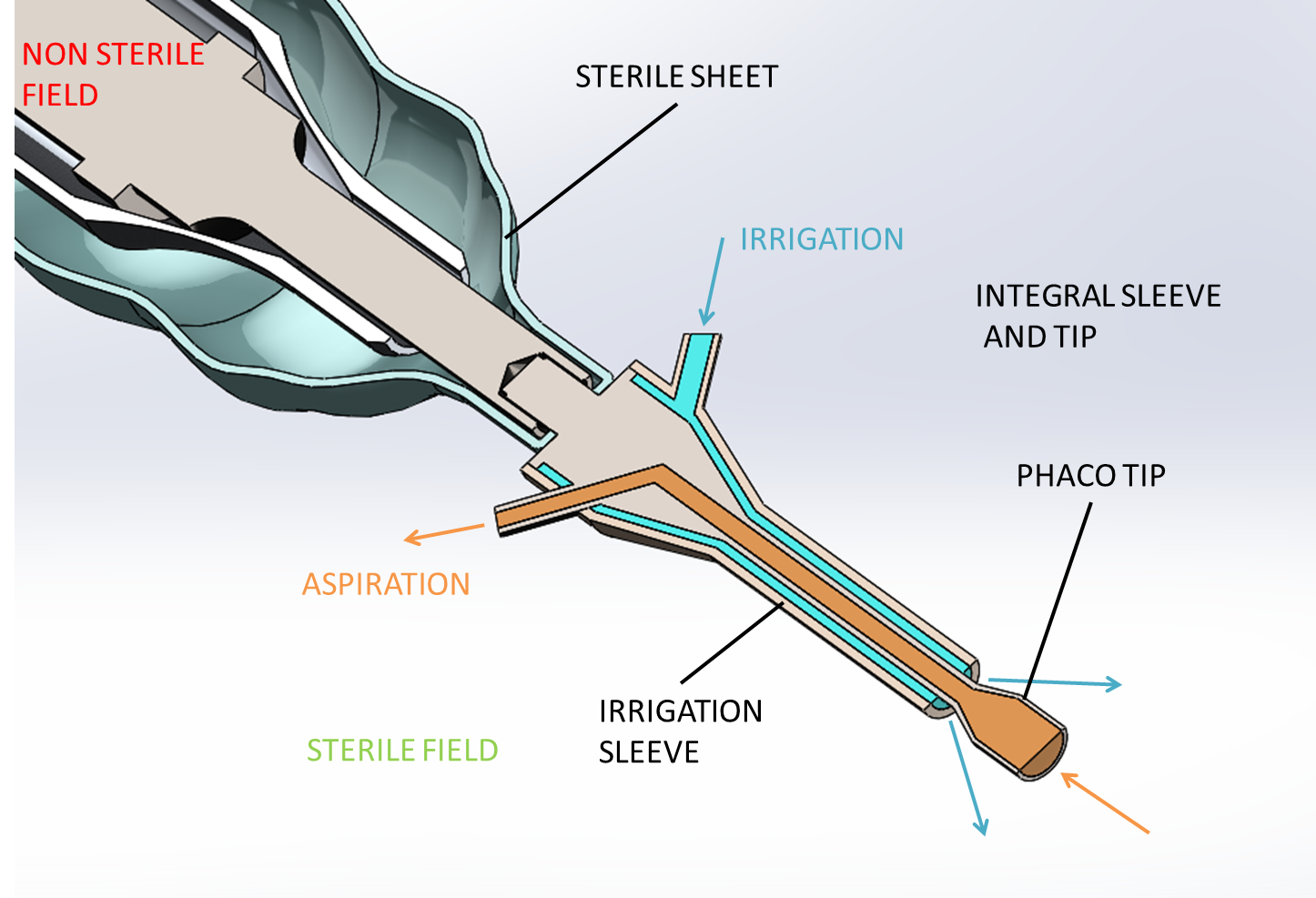 Figure 5
HANDPIECE WITH DUAL LUMEN TIP
The current procedure for removing cataracts requires the use of two instruments; an ultrasonic handpiece and a separate I/A handpiece. Utilizing two instruments adds extra expense, time, and potential risk of infection.
Surgical Design's Patent US 8,641,658 describes a one-instrument approach to cataract surgery. This elegantly simple solution enables the surgeon to alternate the irrigation and aspiration functions of each tube during surgery. (See Figure 6 below.) This flexibility allows the surgeon to adapt to various intraocular surgical conditions.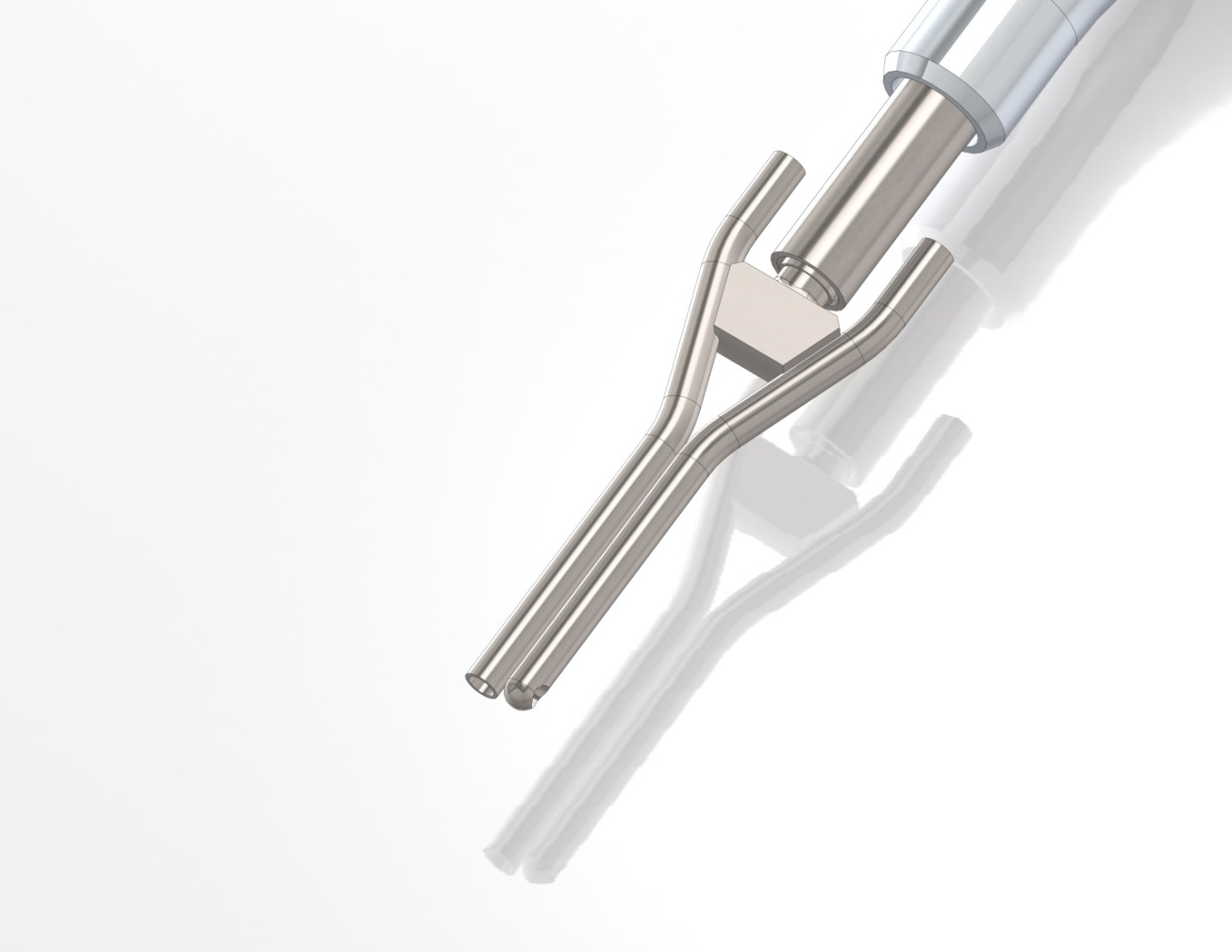 Figure 6
Figure 7 illustrates a sterile Dual Lumen tip with an attached sterile sheet that connects to a nonsterile handpiece.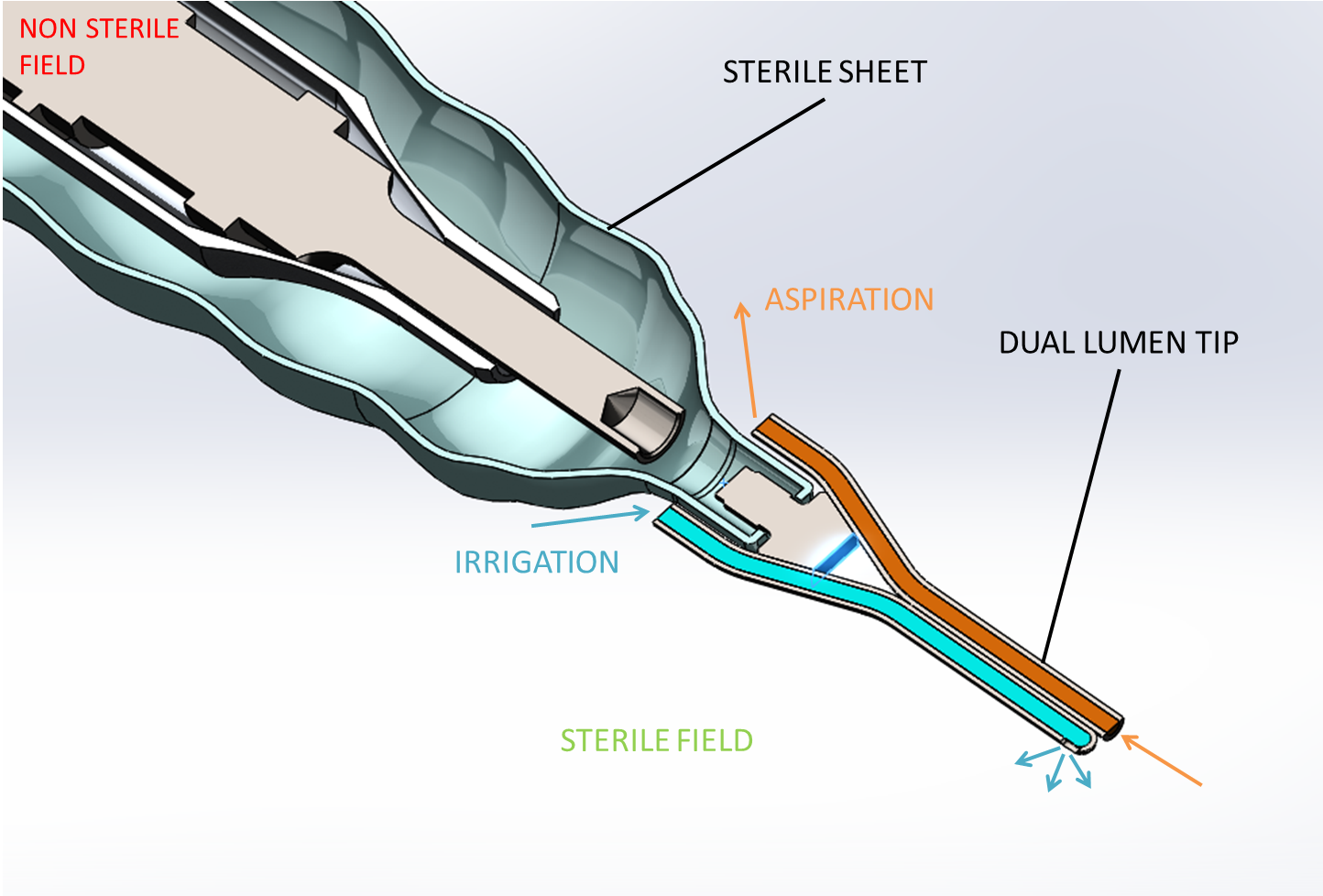 Figure 7
In Figure 8 the Dual Lumen tip aspirates and emulsifies a cataract through the phaco needle, with irrigation fluid entering through the second tube.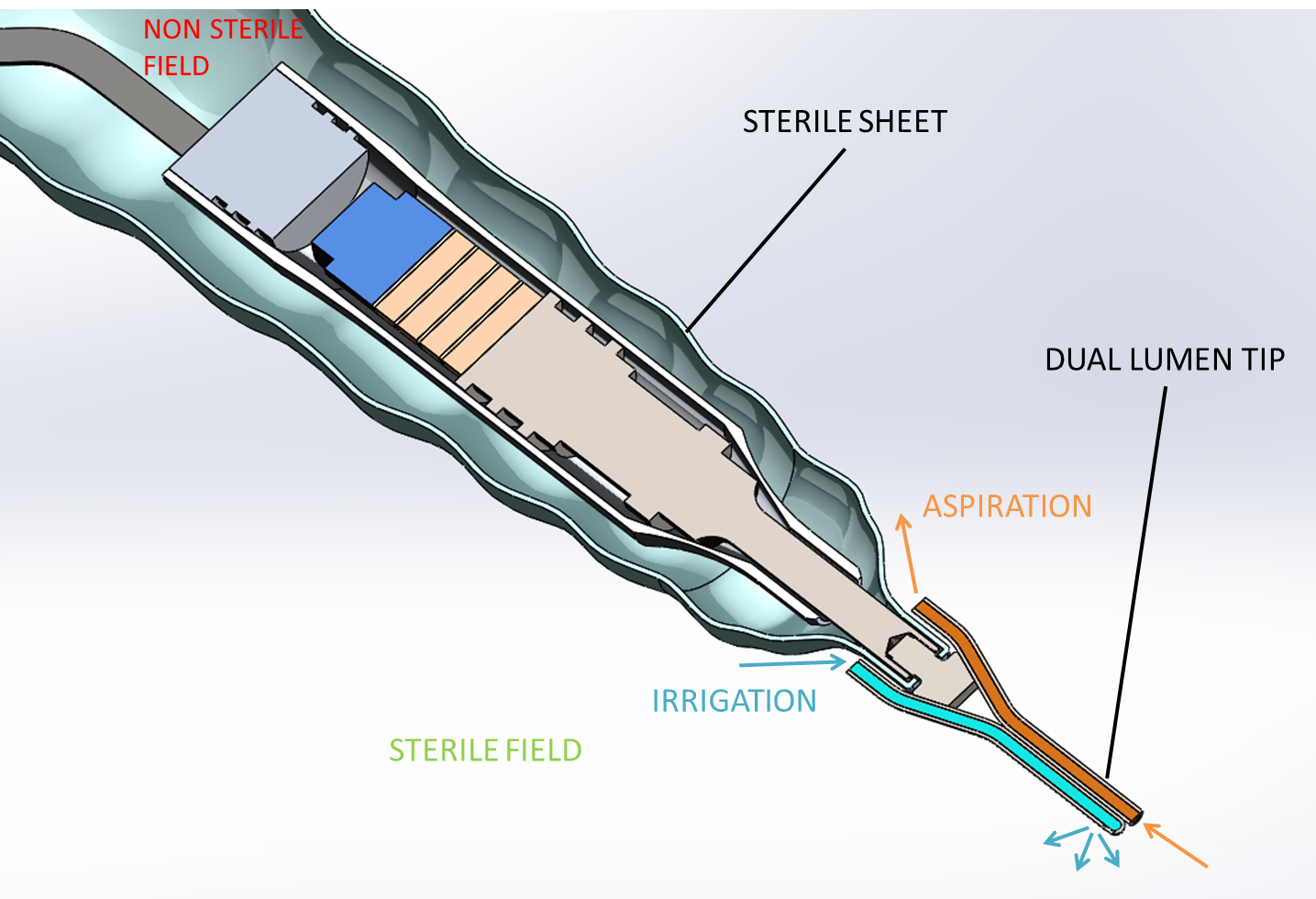 Figure 8
Figure 9 illustrates the Dual Lumen tip aspirating cortex through the smaller opening with irrigation fluid now provided by the phaco needle.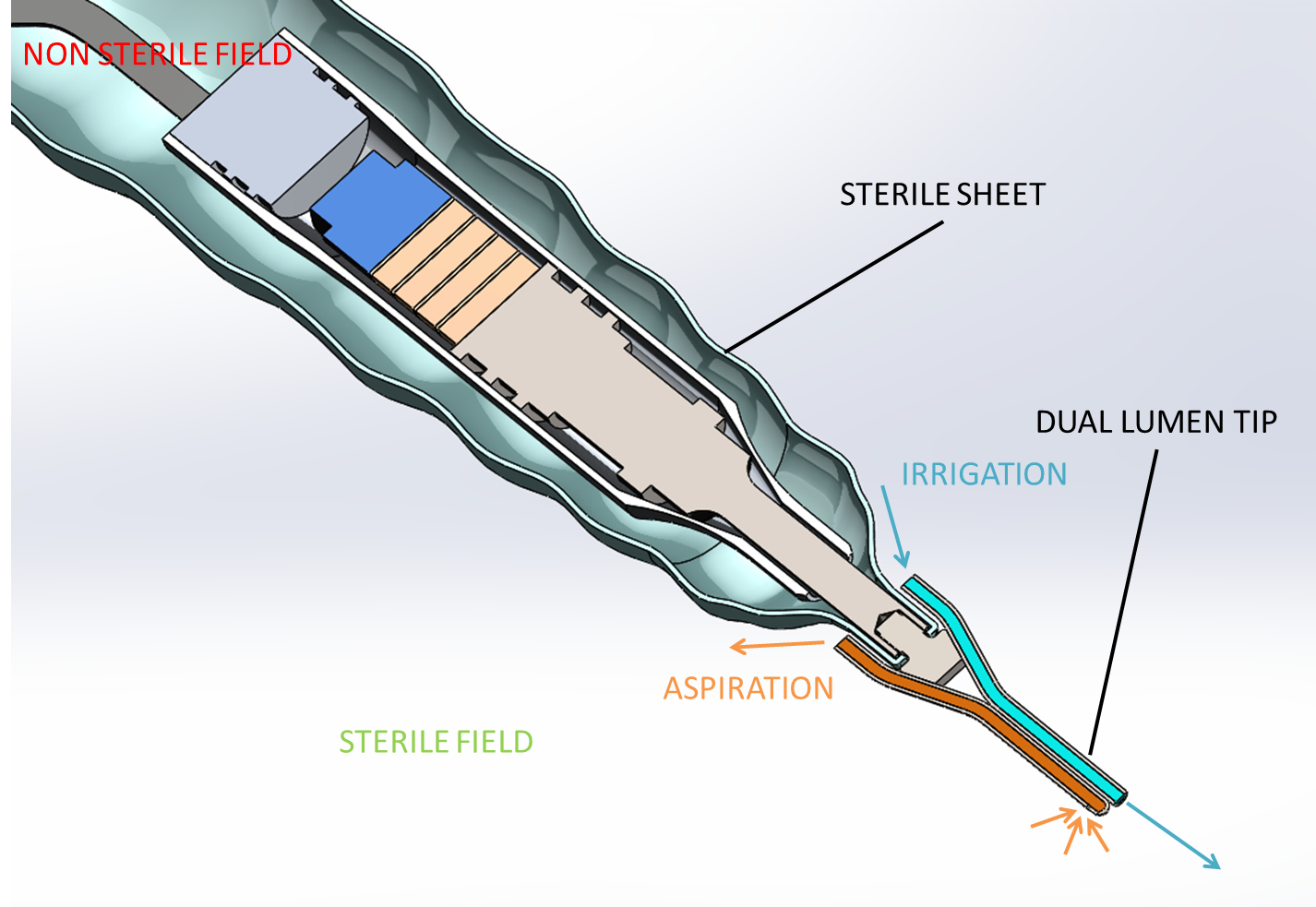 Figure 9
The Dual Lumen approach to cataract surgery includes the following benefits:
Elimination of a central aspiration tube resulting in a smaller, lighter handpiece.
The handpiece no longer needs to be sterilized in between cases.
The requirement for a separate ultrasonic handpiece and a separate I/A handpiece is eliminated by a disposable work tip that can perform both functions.
A cannula with additional irrigation fluid can be placed in the incision. This will help maintain intraocular pressure and protect the cornea.
The ability to alternate irrigation and aspiration functions between two openings of different sizes gives the surgeon unprecedented control over surgery.
Cortical cleanup after laser cataract surgery can be significantly improved with the ability to alternate the infusion and aspiration functions between the dual lumen tubes in the work tip. An article describing the need for efficient cortical cleanup after laser cataract surgery can be found in the Journal of Cataract and Refractive Surgery, March 2013: Techniques to Improve Phaco After Laser Cataract Surgery; Eric D. Donnenfeld, M.D., Jonathan Stein, M.D, and Jean Chai, M.D., pages 57- 59.
DUAL LUMEN TIP FOR INJECTING PHARMACEUTICALS
Recent medical research, i.e., Pharmacological chaperone for a-crystallin partially restores transparency in cataract models (Science, November 2015:Vol 350, pp.674-677) and Lanosterol reverses protein aggregation in cataracts (Nature, July 30, 2015: Vol 523, pp.607-611), has demonstrated that treatment by chemical compounds like lanosterol reverses protein aggregation in cataracts. Eye drops can be one method of delivery for these pharmaceutical compounds. However, it may be advantageous to inject pharmaceutical compounds directly into the tissue that requires treatment. The Dual Lumen tip has the unique advantage of being able to tunnel a small chamber into the cataract that allows placement of pharmaceutrical agents that can reverse or prevent protein aggregation in the lens. See Figure 10.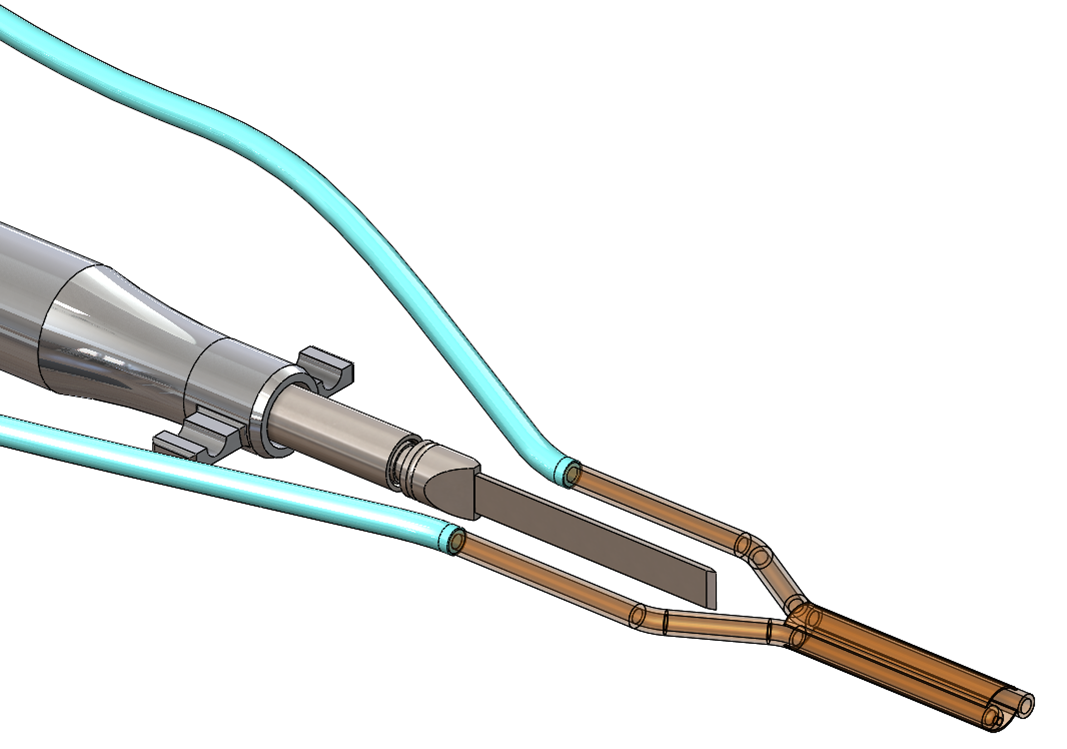 Figure 10
SURGICAL DESIGN PATENTS
The new approach to cataract surgery is described by U.S. Patent No. 8,641,658 and patent applications; 14/142,555 (Pub. Date: April 24, 2014), 14/292,459 (Pub. Date: Sept. 18, 2014), 14/506,404 (Pub. Date: January 22, 2015), and 14/479,176 (Dual Lumen Surgical Work Tip for Placing Chemicals to Dissolve Cataracts).
SUMMARY
By 2020, the World Health Organization estimates that 32 million cataract surgeries will be performed annually. This increasing global demand for cataract surgery will create challenges and opportunities for industry leaders who want to provide surgeons with technology and instruments that are efficient, cost effective and reliable.
Surgical Design's latest patents describe the following key advantages:
Combines phaco and I/A functions in a work tip that allows cataract extraction with a single instrument.
Opens the door for the next generation of handpieces that are smaller, lighter and more ergonomically shaped than anything currently available in the marketplace.
Allows reuse of the phaco handpiece between cases without sterilization, as the central aspiration line within the handpiece is eliminated.
Allows injection of pharmaceutical compounds without placing a mechanical force on the cataract.
Surgical Design's latest innovations are again setting the standard in intraocular microsurgery, as they have since 1968.